Feb 13 – Mar 14, 2015
Opening Reception Friday February 13, 6-9pm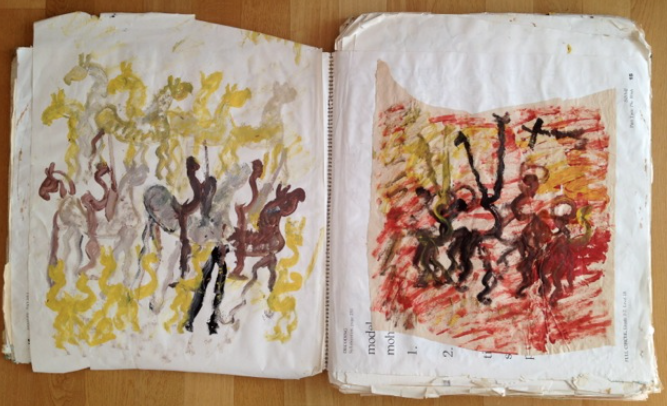 Purvis Young, Untitled (horses, figures), 1992, 70 drawings in oversize spiral-bound children's reading manual, mixed media, 30 x 23 x 2"    
"I had taught myself to paint back then. I liked to draw when I was young, but I stopped doing that, and when I was in prison in the sixties I started drawing again. When I got out I taught myself how to paint. Every day I came and find wood, you know, and put it up on a wall and paint it there in the alley, right off 14th Street. Sometimes people would swipe the paintings. I didn't care if my friends take them, I just put another one up." 
"I get me all the books. I try to learn from the books, documentaries, and everything I got to know so I can paint the truth. I walk around and looks at the peoples, see if the peoples are happy. I looked at a lot of art books, mainly at the backgrounds, like the landscape. Everything in my paintings, just about, come from the neighborhood. I get a lot of my ideas just riding by bicycle around, looking at reality. If peoples are not happy sometimes, I paint it like that." 
Purvis Young (from Souls Grown Deep, Vol. 2: African American Vernacular Art by William S. Arnett)
P339 Gallery is pleased to present the first in a series of 4 exhibitions by African and African-American contemporary and folk artists guest-curated by Diego Cortez, a free-lance curator, advisor, editor and author. Previously curated exhibitions by Cortez include: New York/New Wave, PS1 (1981), Jean-Michel Basquiat: The Studio of the Street, Deitch Projects (2006), Photography and Depression, New Orleans Museum of Art (2008) and REPARATION: Contemporary Artists from New Orleans, NOMA (2014).
Purvis Young – Five Works presents four paintings on wood from the 1980s and one rare oversize album of 70 drawings (1992) by the late Miami artist. Purvis Young – Five Works will open to the public on Friday, February 13 and closes Saturday, March 14.
Purvis Young was born in 1943 in Liberty City, Miami and died in Miami in 2010. His uncle introduced him to drawing but his interest quickly waned. He never attended high school. Young served three years (1961-64) in Raiford State Penitentiary where his interest in art reemerged by making drawings and studying art books. When released he produced thousands of small drawings which he later glued into discarded books and magazines found on the streets. Recurring themes in his work were angels, wild horses, and urban landscapes. Young moved to a vacant alley called Goodbread Alley in the Overtown neighborhood, whose African-American population of up to 30,000 residents was largely displaced by the construction of I-95.
In the 70s Young was inspired by the mural movements of Chicago and Detroit, and began to assemble an outdoor assemblage of painted works on found wood in Overtown. The popularity of Young's enormous mural was immediate. He soon attracted collectors and well as the media which made him into a local folk hero. His work blossomed and many important folk art dealers and collectors began to collect his prolific production of art works. Young's subject matter evolved to include civil rights marches and urban unrest, the Vietnam war, the Great Depression and Native American conflicts in the U.S. Young is credited with influencing art movements known as Social Expressionism or Urban Expressionism.
In 1999, the Rubell Family Collection in Miami purchased the entire content of his studio of almost 3000 pieces. They have donated much of it to U.S. museums and institutions, including 108 to Atlanta's Morehouse College.