Mar 20 – Apr 25, 2015
Reception with The Artist: Saturday Apr 18, 6-9 pm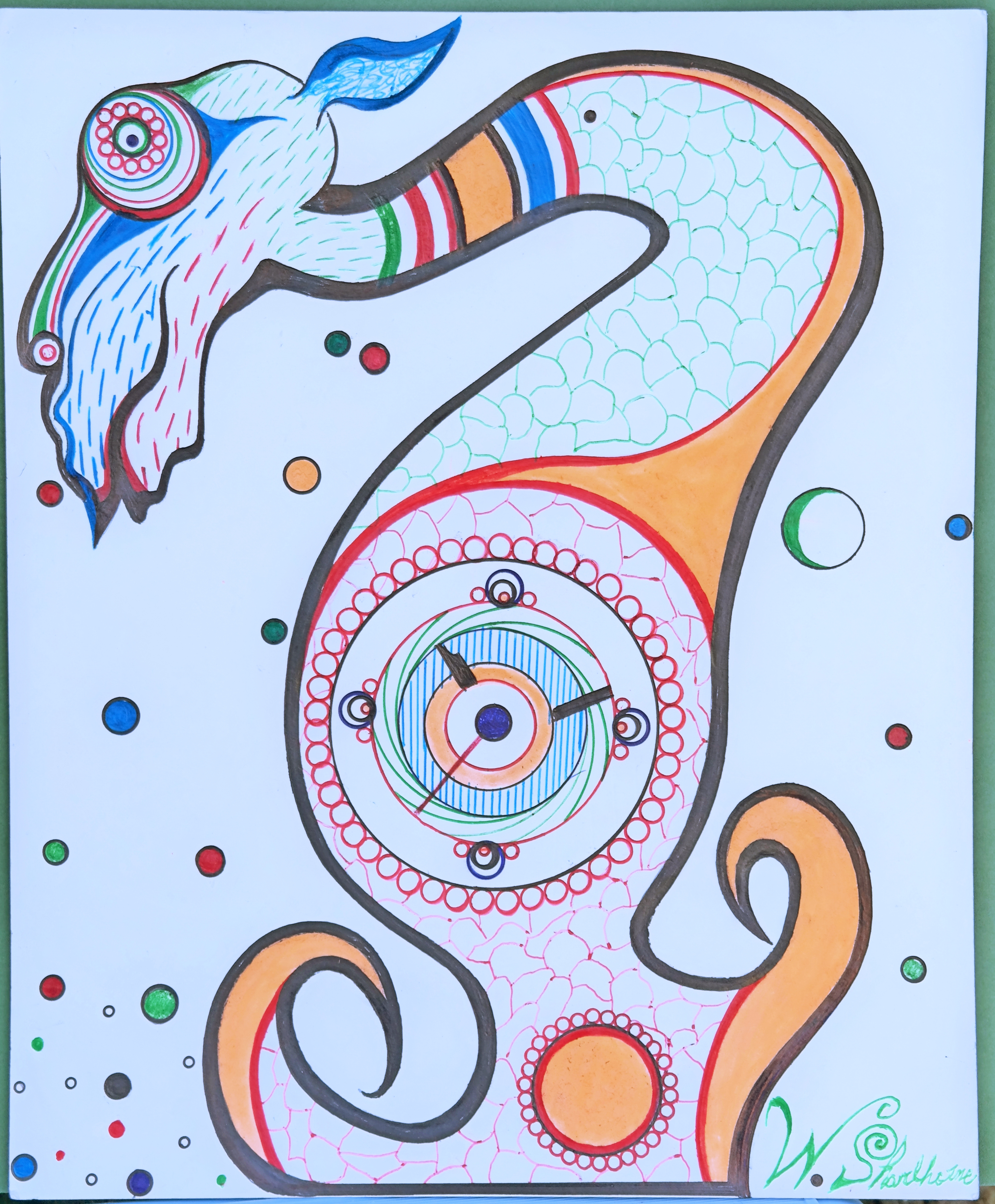 Welmon Sharlhorne, On Time (orange dragon clock), ca. 2006-10 Ink on poster board, 17 x 14"
   "A pencil is an insult to me – I only draw with ink, and my work don't stink."
   "I used art as an escape from the reality of prison. It helped me survive and do my time. I became better minded and thinking better."
   "My life is full of mystery, come see me!       Welmon Sharlhorne
P339 Gallery presents the second in a series of 4 exhibitions by African-American contemporary and folk artists from the American South, guest-curated by Diego Cortez, New York free-lance curator, advisor, editor and author. Previously curated exhibitions by Cortez include: SAMO (Jean-Michel Basquiat), Galleria Emilio Mazzoli, Modena (1981), James Van Der Zee: Memorial Exhibition: 1886-1983, Department of Cultural Affairs, City of New York (1984), William S. Burroughs, Tony Shafrazi Gallery, NYC (1987) and Bruce Davenport Jr.: Good Stuff To Look At, VACANT, Tokyo (2012).
Welmon Sharlhorne's House of Love presents 31 unframed ink on poster board drawings made by New Orleans artist Welmon Sharlhorne. These works were collected by two "non-collectors" from New Orleans, one a lawyer who loved Sharlhorne's work. In a sense they adopted him, consistently buying his work and assisting him with many of his personal needs. P339 is very thankful to Dean Church and Lisa Longfellow for agreeing to share these works and part with them to further Welmon's artistic reach from the streets of New Orleans where he has both made and sold his works for 20 years.
Welmon Sharlhorne was born on August 1st 1952, the fourth of fourteen children in Houma, Louisiana, a bayou community 60 miles southwest of New Orleans. Welmon quit school in the third grade, never learned to read or write, and received his "education" while hustling the streets of Houma. Growing up in poverty during the racial turbulence of the South in the 1960s, Welmon found himself on the wrong side of the law from an early age. After spending 2 years in youth reformatory detention, Welmon graduated to Angola State Prison. He spent 26 years at Angola, gaining freedom on Christmas Day in 1995.
While in prison Welmon became serious about his art making. The only paper allowed to him was manila envelopes, provided for his contact with his lawyers. He began to create ink drawings on manila envelopes, using an assortment of "prison tools" such as bottle caps, washers and bowls to create circles and curves, and tongue depressors for straight lines. Welmon sold the works to other inmates who sent them to family members outside of Angola. Eventually, his work became known in the outsider folk art world and a demand for his drawings grew.
Welmon's images of bird-like creatures, clocks and buildings, afro-centric faces and guitars have become iconic. While in Angola Prison his work was exhibited at the Smithsonian American Art Museum in a group exhibition of prison artists. The Smithsonian currently has several of Welmon's early prison works in their collection ironically along with the infamous Angola Prison guard towers.
Since his release from Angola, Welmon has split his time between native Houma and his favorite city, New Orleans, where he creates art, chaperones tourists, appears regularly on local television, and remains a French Quarter superhero. Dressing in three-piece suits with decorative canes and top hats and speaking in rhyme, Welmon loves being an Ambassador of all things New Orleans. His works have been exhibited at the Ogden Museum of American Art in New Orleans, and Welmon is the artist-in-residence at Melba's New Orleans Po-Boy and Washateria Laundromat Art Gallery.
Welmon Sharlhorne will come to P339 gallery on April 15-18 to set up a studio in the gallery, make art, and do interviews for an upcoming film documentary. The public is invited. There will be a closing party for Welmon on Saturday, April 18 from 6-9 pm. Welmon invites everyone to "Come see me!"